Featured
/ User update: Aerial X is moving!
Featured
Read about all our new developments and features......
User update: Aerial X is moving!
29 September 2022
You may be familiar with the Aerial X layer in Digimap for Schools, which has previously resided under the Map Selector as you zoom in.
Aerial X is a combination map – aerial photography incorporating an overlay of roads and place names. On 29th September, these two layers will be separated so that the roads and place names layer can be added to any other map in the Map Selector.
From 29th September, you will find the Aerial maps under the Map Selector and the Roads & Place Names layer will be under GB overlays in the Overlays panel on the left hand side: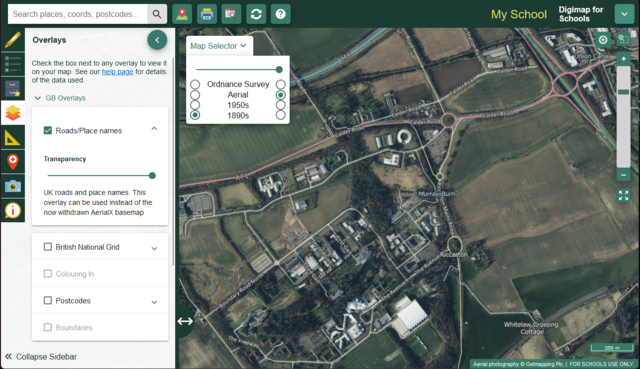 You can add the Roads & Place Names overlay to any map at the right scale. The overlay will be greyed out if the scale of your map is not appropriate.
The separation of the Roads and Placenames into its own Overlay provides greater flexibility to display these against other base maps - used in conjunction with the historical maps they can bring bring new and interesting insights.
Here is an example of the modern road network overlaid on the 1890s historical maps: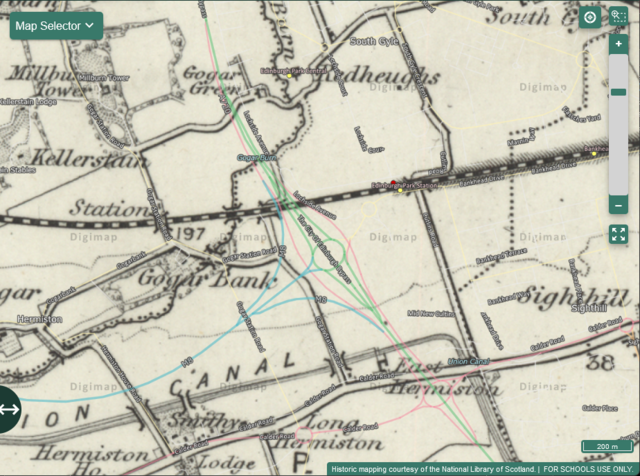 ---
Explore our resources
Have a look at our free to use resources - games, challenges and fun activities to support creative, engaging and interactive learning - to see what you can create and learn.
Explore our resource hub
---
Join our community
Subscribe to the Digimap for Schools newsletter for all the latest updates on new features functionality and resources.
Subscribe