Featured
Read about all our new developments and features......
Key for Biomes Overlay Added
01 March 2022
We've improved the links to our key for the Biomes Overlay.
You can now access further information about the Biomes shown in the Biomes overlay. Click on the Overlays menu (situated on the left-hand panel within Digimap for Schools), then select "World Physical Geography" and then WWF World Biomes. Read on for more information…
Links to key information are now easier
While our key for the Biomes overlay has been available for a while, we realised it was hard to find. We hope we've addressed this problem. Go to the Overlays panel and find the Biomes overlay under World Physical Geography. Check the box next to the overlay's name to add the overlay to your map. You will be able to adjust the transparency; below the transparency slider is a link to more information. Click on this and a new window (or tab, depending how your web browser is set up) will open with more detailed information about the Biomes. On the help page is a link to a detailed guide to the Biomes (PDF).
You can also access more information about any particular biome by clicking on the "Feature Information" button (next to the print button) and then clicking on your map.

You will see the biome you've clicked on highlighted and a popup window, headed "Feature Information", showing information about that biome. If you click on a location that is covered by a number of biomes, these will be listed one by one on the left hand side of the popup Feature Information window.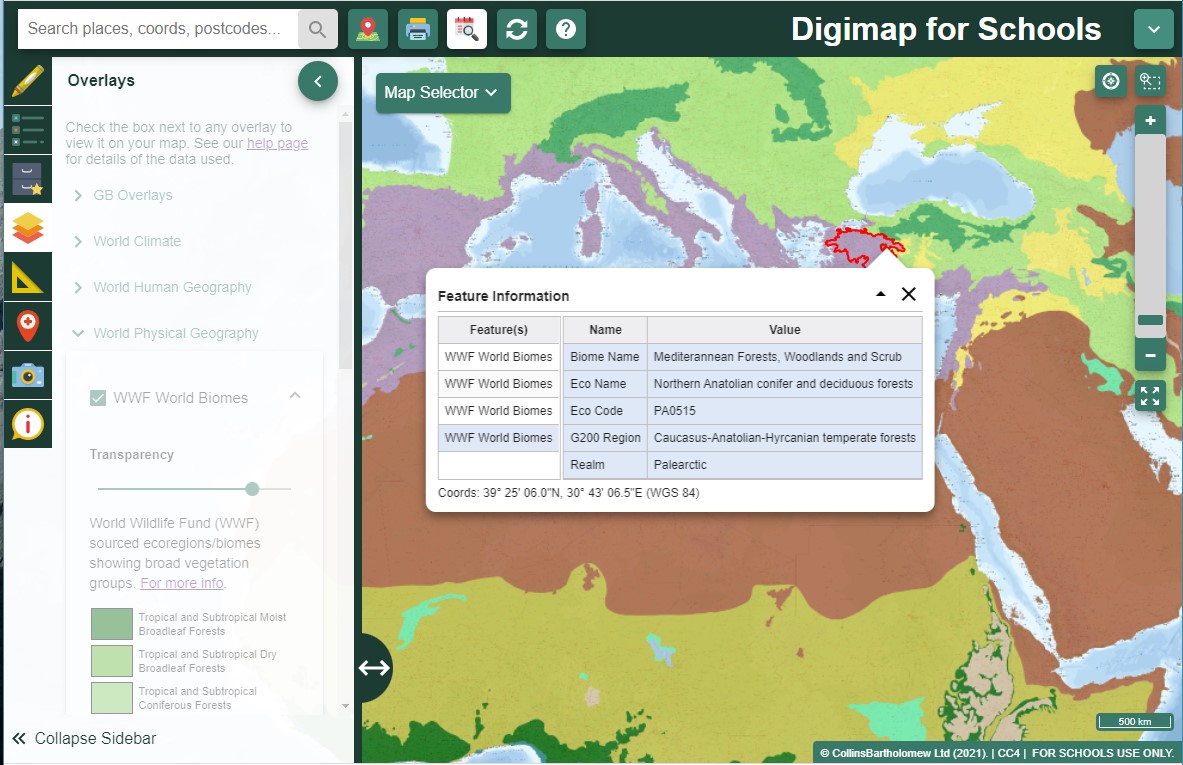 ---
Explore our resources
Have a look at our free to use resources - games, challenges and fun activities to support creative, engaging and interactive learning - to see what you can create and learn.
Explore our resource hub
---
Join our community
Subscribe to the Digimap for Schools newsletter for all the latest updates on new features functionality and resources.
Subscribe